Classes: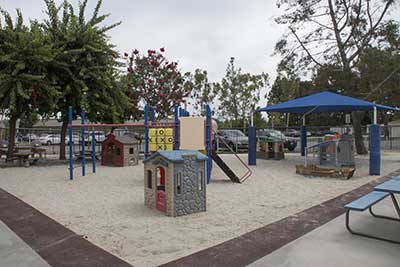 Our school offers Full time preschool classes, part time classes, or extended day classes for 3, 4, and 5-year old's. Our school hours are 8:00 am to 5:00 pm. You can choose part time which is 9:00 to 12:00, early and extended days 8:00 to 1:00, or full days which is 8:00 to 5:00 pm. You can also choose between 2 days, 3 days, 4 days or 5 days. Children who are 5 years old may attend our TK (Transitional Kindergarten) class (the above hours and days also apply to our TK program).
Lunch Box:
This program meets from 12:00 noon to 1:00 pm each day and provides additional time for lunch and play. The children bring their lunch and eat with their friends. Preschool staff members supervise lunch time and the after lunch playground time. The cost is $10.00 per day when done occasionally. If your child is signed up for the extended days your cost is included in your tuition.
Program Overview:
We believe that our Christ-centered faith provides the strongest foundation for preschool education. Christian education in our preschool begins with the acknowledgment that all strengths and abilities come as a gift from God's love.
Light of Christ preschool uses developmentally and academically appropriate practices in its curriculum to build the foundational skills that your child will use throughout their educational career.
This approach uses multi-sensory experiences to encourage a love of learning while building those foundational skills.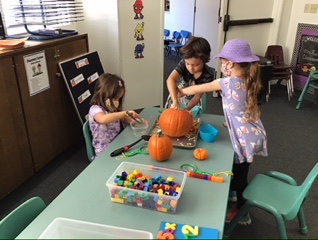 Fine Motor Skills: painting, gluing, stringing items, tracing, letter formation, cutting, using manipulatives such as puzzles, play dough, lacing, etc.
Gross Motor Skills: climbing, running, skipping, catching/kicking balls, balancing, riding a tricycle
Math: sort/classify objects, recognize and create repeating patterns, sequencing, adding/subtracting, counting, measuring, weighing, demonstrating concepts of time.
Science: making predictions, observing, experimenting, and forming conclusions.
Language Skills: letter recognition, experience with sounds (phonics), working with syllables, forming letters, interactive reading
Art: hands-on process, creativity, sensory, colors, cutting, spacial awareness.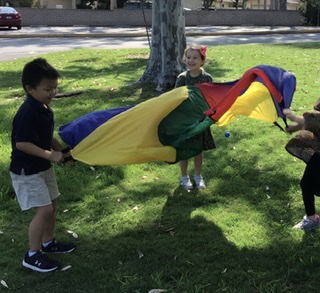 Music: learning rhythm, songs, creative expression, auditory memory, and movement.
Social Studies: learning different cultures, different professions, history, and role playing.
Social Skills: problem solving, sharing, communication, cooperation, working together, how to be responsible, accountable, and a good leader.
Throughout the year the children will learn to discover, explore, analyze, and experience each developmental area through the hands-on approach.
Our staff teaches appropriate behavior through redirection and modeling Jesus' love and forgiveness to the children.